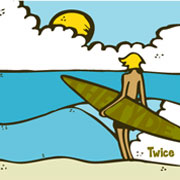 enfin un nouvel album de the tyde ! il est sorti le 2 juin en angleterre et aujourd'hui aux usa, apparemment pas de date prévue pour la france… comment on va faire ?
il y a blood brothers dessus (edit et single), une reprise de pavement aussi.
ils sont chouette les gars de the tyde, ils ont l'air tranquilles et leur musique bien pop me ravit.
c'est peut-être l'effet "californie" ?
(par exemple j'adore "you never show me your tatooooooos" du premier album)
je vais essayer de mettre une radio sur ce blog avec des morceaux en streaming, ça pourrait être rigolo.


à part ça, le matin on croise souvent ysabelle lacamp en allant prendre le métro à pigalle.
c'est fou paris!