ça se passe dans une pièce. le garçon et la fille se rencontrent pour la première fois, et entament une maladroite conversation. le garçon demande à la fille ce qu'elle peut bien écouter dans son énorme casque. elle lui répond, et approche le casque de ses oreilles. elle lui dit: écoute cette chanson, ça va changer ta vie tellement c'est beau. les mains de la fille posent le casque sur la tête du garçon, qui n'entend plus que la chanson. elle est magnifique, et la fille le regarde dans les yeux en souriant. c'est là que tout bascule.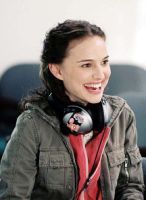 la pièce, c'est la salle d'attente du neurologue. le garçon, c'est zach braff, un peu malade. la fille, natalie portman, douce dingue. et la chanson, c'est new slang, des shins. le film: garden state. chacun peut remplacer les personnages et la chanson par ce qu'il voudra, cette scène est un standard, un classique. chryde la décrira sans doute mieux que moi en temps utiles.
garden state, donc, premier film de zach braff, avec lui-même et natalie portman. dans le film, ce jeune homme traité au lithium à haute dose, revient dans sa petite ville natale pour y enterrer sa mère. neuf ans qu'il n'y a pas mis les pieds, occupé qu'il était par des petits boulots à los angeles en attendant que sa carrière d'acteur décolle. petit à petit on comprendra pourquoi il a coupé les ponts et on assistera à un tournant de son existence.
la bande originale est une collection de très bonnes chansons pop plus ou moins récentes (the shins, the postal service, coldplay, nick drake et une pépite de simon & garfunkel, the only living boy in new york, autrefois reprise par everything but the girl). ce qui m'a fait le plus rire, c'est quand une spectatrice est tombée en revenant dans la salle. j'ai eu un fou rire énorme et j'ai complètement raté une scène romantique. la honte.
dimanche il faisait un sale temps, on s'est pris la traîne du macabre ouragan de floride, c'était déja novembre. alors, on est allés au cinéma.