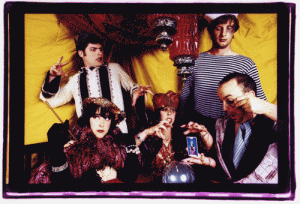 hier soir, pour fêter la victoire suprise de la grèce, j'ai pris la branche b de la ligne verte pour me rendre au paradise club. j'avais rendez-vous avec mon collègue le docteur anderson pour ma dose hebdomadaire ou presque de musique live: the long winters et the decemberists. le paradise club est une chouette salle au décor un peu curieux, un peu moyen-orient, mais avec une boule disco.
ce détail n'a pas échappé au chanteur à lunettes des long winters (de seattle, washington), qui a insisté pour qu'on la mette en marche pendant un de leurs tubes parce que tu vois, les spectateurs et le groupe sont unis par la lumière qui tourne. soit. une set list improvisée et très agréable, surtout cinnamon.
après une bonne vieille rolling rock (je l'avoue: une amstel à la pression me manque), nous nous placâmes stratégiquement sur le balcon côté cour pour profiter d'une vue latérale sur the decemberists. guitare sèche/chant, basse/contrebasse, pedal steel/guitare 12 cordes, accordéon/claviers, et une batteuse, encore. ce groupe qui vient de portland, oregon, m'a envouté depuis son premier ep 5 songs, qui me rappelait un peu neutral milk hotel. ils ont ouvert avec la première chanson de leur album her majesty (la magistrale shanty for the arethusa), qui donne un bon aperçu de leur palette sonore, entre les riffs de guitare électrique façon calexico, l'accordéon et la voix très personnelle et mélancolique du chanteur. ce côté country, down tempo, m'avait fait supposer qu'ils étaient originaire du sud ouest des usa. eh bien non.
après une bonne heure d'échantillonnage de leur discographie, le rappel se fit sans amplification. un moment très émouvant, et enfin une façon de clouer le bec au public qui a l'étrange habitude de parler tout le temps pendant les concerts. un des bonhommes a parcouru la foule en jouant de la grosse caisse avec une fausse barbe. et pour terminer, quoi de plus approprié en ces temps de retour du moz qu'une reprise de ask à la douze cordes, je vous le demande? rien. qui eut cru qu'un groupe aux sonorités si américaines rende hommage au plus anglais des groupes anglais?
je voulais reprendre le métro pour rentrer chez moi mais figurez-vous qu'un zozo avait réussi a fourrer sa bagnole en plein milieu des voies (c'est comme un tramway dans ce coin-là). ce fut donc le bus qui me ramena vers kenmore square, d'où je rentrai à pattes à la maison. aaaaah mais que d'aventures. allez les bleus.