hey, it's the sun, and it makes me shine!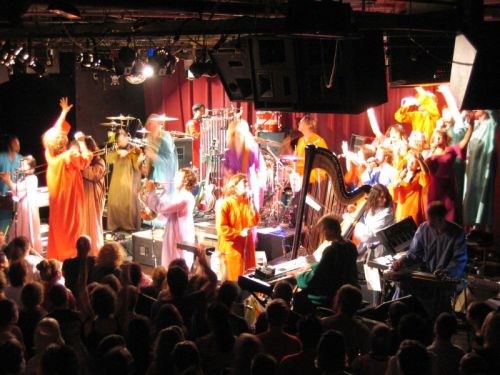 24 personnes à la fois sur la scène du paradise, c'est the polyphonic spree. le retour de jesus christ superstar, ou bien un culte? presque… tim delaughter, le chanteur de ce groupe du texas déclarait dans metro boston du 18 août: you know, we may be a cult, but i think we're pretty much an innocent one. we're not very dangerous, but i think every cult leader believes that.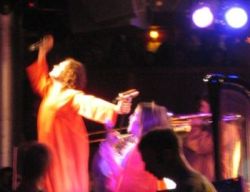 en tout cas l'énergie phénoménale dégagée par le groupe en concert est communicative et euphorisante. une explosion visuelle autour des robes multicolores, et pour les oreilles, imaginez un mélange de penny lane (pour les cuivres), les flaming lips (la grandiloquence), une touche de mercury rev (la voix), j'en oublie, et vous serez encore loin du compte. le spectacle est incroyable, inhabituel, joyeux, magique! ils ont des fans de tout âge, et le monsieur d'environ 70 ans à côté de qui nous nous trouvions n'était pas en reste question groovage. leur dernier disque vient de sortir : together we're heavy.
deux histoires marrantes à leur propos: on a appris hier soir pendant le concert qu'ils étaient invités à se produire aux mtv video awards (bien que n'ayant pas de clip) mais uniquement pour un morceau de 2 minutes 45. ils ont donc répeté et enregistré ce morceau devant nous hier soir, en deux essais et en se chronométrant, c'était très amusant de partager cette répet improvisée. surtout quand le chanteur a assuré qu'il joueraient autre chose le jour j, sachant qu'il sera trop tard pour que mtv proteste… et aussi, le batteur du groupe a été arrêté par le fbi suite à un voyage en avion la semaine dernière, un de leurs micros ayant été pris pour une bombe.
quand les polyphonic spree sont entrés en scène, à 21 heures, il était 3 heures du matin en france, et jade est née! bravo à ses parents et son frangin!